The history
T
he complex comprises of the two buildings, the main one covers an area of about 400 sq metres and is standing on the opposite side of the house for the guests ( 160 sq metres ). The two buildings are seperated by a large lawn, at the edge of which there is a swimming pool with one side overflowing into the valley below.
Our house is first cited in the historical documents in the ancient archives of Siena at the beginning of the 16th century. The place belonged to the territory of the Castle of Modanella, owned by the Piccolomini family ( a powerful Sienese family Pope Pius II, the founder of nearby Pienza, was a member of ).
In later years it passed to the Santa Maria della Scala Hospital, an ancient Sienese welfare institution, whose seat can be visited in the Duomo Square in Siena ( for centuries it was a hospital, today it is a museum ), or visit one of the most impressive fortified granaries ( Grancie ) situated in the territory, the Grancia in Serre di Rapolano ( 4 km ) today is a museum.
---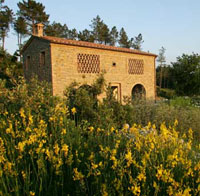 The house for the guests during restoration